Shrek 2 Is Number One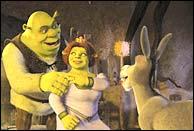 Shrek 2 broke records this weekend at the box office, taking in an estimated $125.4 million during the first five days after its release May 19.
Singing to praises that is even better than the first, the big question now is if it will have enough staying power to humble Mel Gibson's 'The Passion Of The Christ', which is winding up with $370 million in North America and about $270 million abroad.
Written May 24th, 2004 by Blog Bloke | 163 Comments | Filed under: Miscellaneous Blog Tips
Thanks for Sharing
Did you enjoy this article? Keep up to date with Blog Bloke Tips the moment it's published by email. Your Privacy is Guaranteed and will not be shared with anyone.
Thanks for reading the original Blog Bloke
. You can read more
about me here
. Contact me if you have any
questions, tip requests
or if you would like to be a
guest blogger
. Keep it real every day and subscribe to the
newsfeed
, share with friends or follow me.